The old adage says "What goes up, must come down." Whether it's the price of oil, a winning streak, or just plain old gravity, there is a lot of truth in that statement. In fact, it might feel like we're currently stuck in the mud.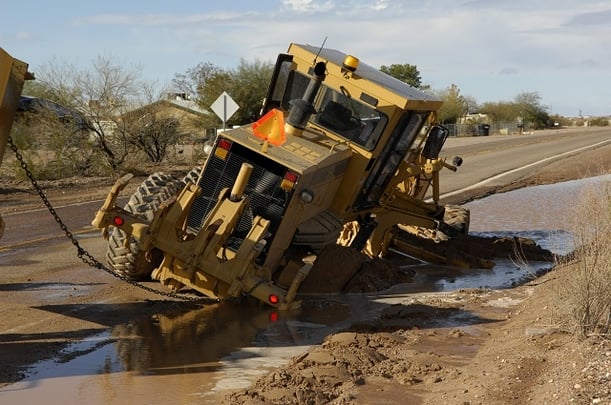 As our largest trading partner by far, America has seen some substantial economic gains in the past few years. Going from the crash of 2007/08 to now, several key economic indicators have risen steadily (GDP Growth Rate, Stock Markets, Currency), while unemployment has been halved since 2010. With the recent rate hike by The Fed, it is clear their economic policy is moving away from quantitative easing and returning to normalcy.
The road ahead for Canadians will be rocky and uncertain
Unfortunately, it seems that Canada is on the opposite side of this economic pendulum. The outlook is not very bright, especially if you are a Canadian company doing business in American dollars. However, it's not all doom and gloom as there are many factors that affect the price you pay for bulk bags.
If you have read Bulk Bag Economics 101, you know there are four main factors that come into play when you get your pricing from a supplier. One of the bigger factors, if not the biggest, is foreign exchange. Considering the majority of Canadian importers are tied to the American dollar, our buying power has taken a significant hit of late. I have never, ever bought a head of cauliflower, but I understand they are very expensive at the moment!
So what does this mean for bulk packaging and your bottom line?
Essentially it means we have to pay more for the same thing we bought last year. Around 2012 the Canadian Dollar was at parity or higher than the American Dollar. When we were quoted for the bulk bag building blocks, the price shown was the price we paid. No conversion math, no adding a percentage, just a straight across transaction. Fast forward a couple years, and the same building blocks are now around 45% more expensive as our dollar loses value against American currency.
Should you expect large increases in your 2016 bulk bag spend?
Based on the evidence above, you would be right to assume there will be an increase to packaging costs in 2016. However, going back to Bulk Bag Economics 101, another major factor in pricing is the cost of resin. Like many other commodities in the world today, polypropylene is now flirting with historical lows. Today, resin is about 38% less expensive than it was in 2012, so one of the major inputs we require in the bulk bag world has come down significantly.
The bottom line? Even though we are losing ground on the currency side, we are gaining ground on the raw material side and that translates into relatively stable pricing for MiniBulk bags. That being said, if you have some American dollars in the bank, you can really take advantage of the current market.