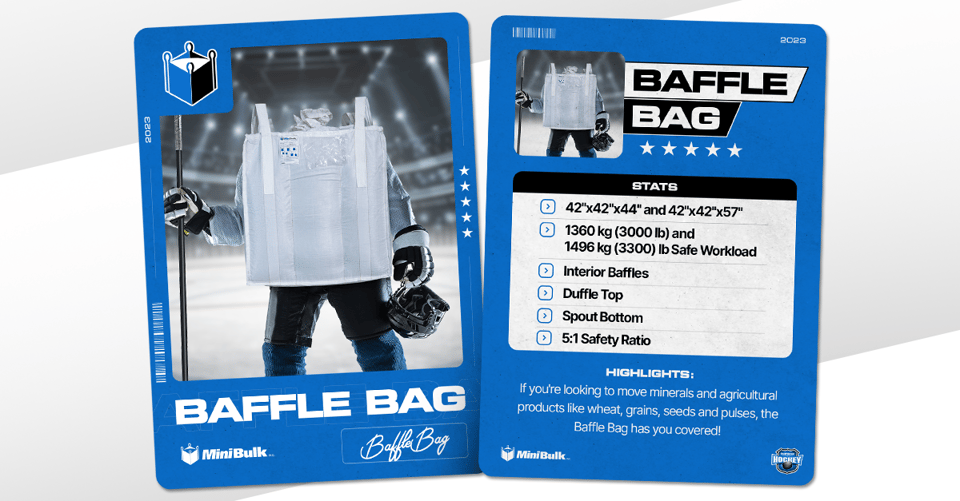 Introducing... the All-Star of the MiniBulk stock bag lineup! The Baffle Bag is a top-line player. With a safe workload of up to 1496 kg, maximum UV treatment, and a 5:1 safety ratio, the Baffle Bag was built with precision in mind.
The Player: What are Baffle Bags?
If you're looking to move minerals, and agricultural products like wheat, grains, seeds and pulses, the Baffle Bag has you covered! Built with sturdy woven polypropylene and interior baffles, this All-Star player keeps its cubic shape once filled with material, making it ideal for maximizing shipping.
The Stats: How do Baffle Bags Measure Up?
42"x42"x44" and 42"x42"x57"
1360 kg (3000 lb) and 1496 kg (3300) lb Safe Workload
Interior Baffles
Duffle Top
Spout Bottom
5:1 Safety Ratio
MiniBulk Baffle Bags vs. The Competition
A standard bag is flexible in nature and can bulge at the sides when filled, losing its square shape. Baffles are extra fabric panels sewn from top to bottom into each of the bags inside four corners. This reinforcement allows this all-star bag to hold its square shape better when filled, making them easier to store side by side or stack. Our baffle bags have…
Better stacking and storage capabilities
Neater form factor
High structural integrity
Seamless storage and handling
Add MiniBulk Baffle Bags to Your Agriculture Packaging Team
Every team needs an All-Star that gets the job done and out-stacks the rest! Contact us to add the Baffle Bag to your bulk packaging lineup today.