READY-TO-SHIP BULK PACKAGING
FOR YOUR NEEDS
Get the bags you need when you need them with MiniBulk's stock bulk packaging.
Our Ready-to-Ship Bulk Packaging
Buying bags has never been easier, and bulk packaging delivery has never been faster. We have hundreds of thousands of bags ready to ship to your site, with dozens of different bag SKUs to choose from based on your bulk packaging needs.
DOWNLOAD STOCK LIST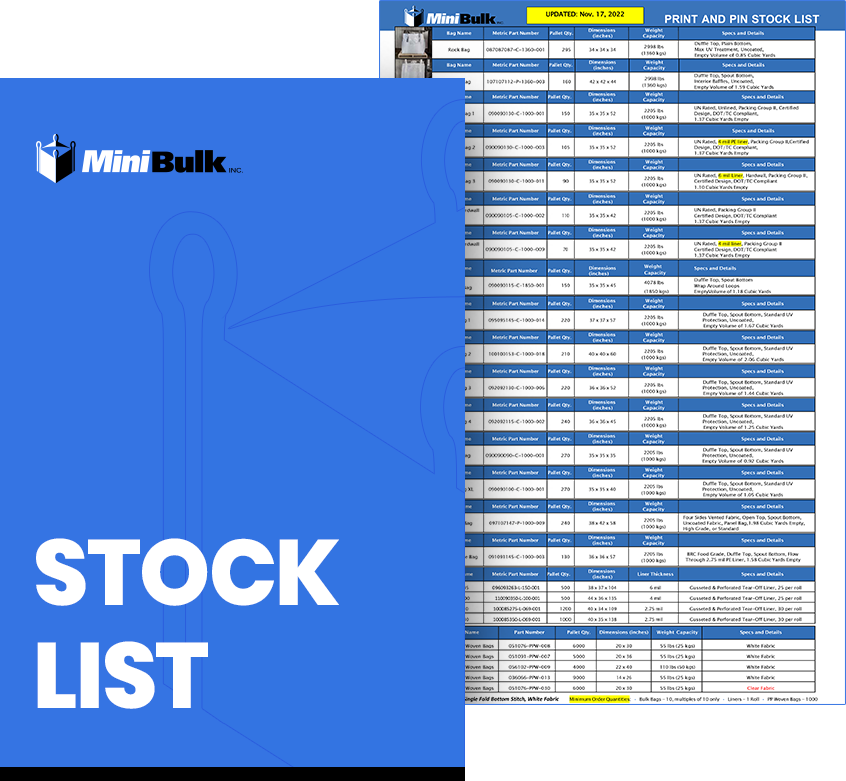 Bulk Bags (FIBCs)
There's no easier way to carry, store, and transport your products than with MiniBulk's FIBCs. Our stock bulk bags with handles are made of flexible polypropylene fabric that keeps the bags lightweight while maximizing strength. Available in various sizes and weight capacities, FIBCs are perfect for a variety of industries, including hazmat, agriculture, landscape and construction.
Weight capacity:

2,205 lbs to 4,000 lbs

Volume capacity:

A variety of configurations from 27 to 64 cubic feet

Loading Options:

Open top, duffel top, and spout top

Discharge Options:

Plain and spout bottom



BUY NOW
Polywoven Bags
Looking for bulk packaging for beans, seeds, firewood, sand and much more? PP woven bags may be just what you need. Our polywoven bags are made from breathable, flexible, and lightweight woven fabric that is sunlight and tear-resistant. These bags are perfect for the agriculture, landscaping and food-production industries.

Additionally, our PP woven bags can be custom printed with your logo and text.
Weight capacity:

55 lbs to 110 lbs

Dimensions:

14 x 26 to 22 x 40

Top openings:

Top hem

Custom-designs available
BUY NOW
Liners and Top Covers
Are you looking to protect the product you put in your bulk packaging? Our standard liners and top covers will help with general product protection, whereas our heavy-duty liners can help with regulated products like hazardous materials. Whether you're trying to keep moisture in or out of your bulk packaging, liners and covers are a great complementary product.
Thickness:

2.75, 4.0, and 6.0 mil

Dimensions:

A variety of sizes available for inner and outer packing

Packaging:

Roll Stock, Perforated Tear-off for easy use
BUY NOW
How to Purchase Stock Bulk Packaging

Discover the Product You Need

Purchase Your Bulk Packaging & Get Same-day Shipping!
What Our Customers Are Saying
"After using thousands of bags from multiple NA suppliers, we have made MiniBulk our sole supplier of baffle bags for overseas exports. The combination of bag selection, product quality, inventory availability and customer service makes MiniBulk a market-winning choice. We have recommended them to other companies looking for a tote supplier in western Canada, and it has always resulted in a positive outcome. Quality suppliers are hard to come by, but MiniBulk is one of them."
- MiniBulk Customer
"I highly recommend the MiniBulk team. MiniBulk was able to support my project with a high volume of products on a very tight timeline. As the project evolved MiniBulk was always able to meet our needs. The products received from MiniBulk are high quality and work perfectly for our project. Thank you to Matt and MiniBulk, I look forward to working with this team again!"
- MiniBulk Customer
"We have been running a firewood business for the last 14 years. We package all our firewood neatly into MiniBulk bags. The strength and durability of these bags is hands down the best bags we have used. We are able to use these bags over and over again. The loops always hold up when we pick them up with pallet forks. The bags stack nicely in the shop when they are full. MiniBulk has a customer for life."
- MiniBulk Customer
What MiniBulk Does Differently
How MiniBulk Solves Packaging Problems For Businesses Like Yours
See how companies like yours utilize MiniBulk's heavy-duty packaging.
How MiniBulk helped a group of global mining companies save $100,000 with the proper FIBC for waste disposal
At MiniBulk, we cover all aspects of your packaging needs, whether they are primary finished goods, secondary co-product packaging, or waste disposal...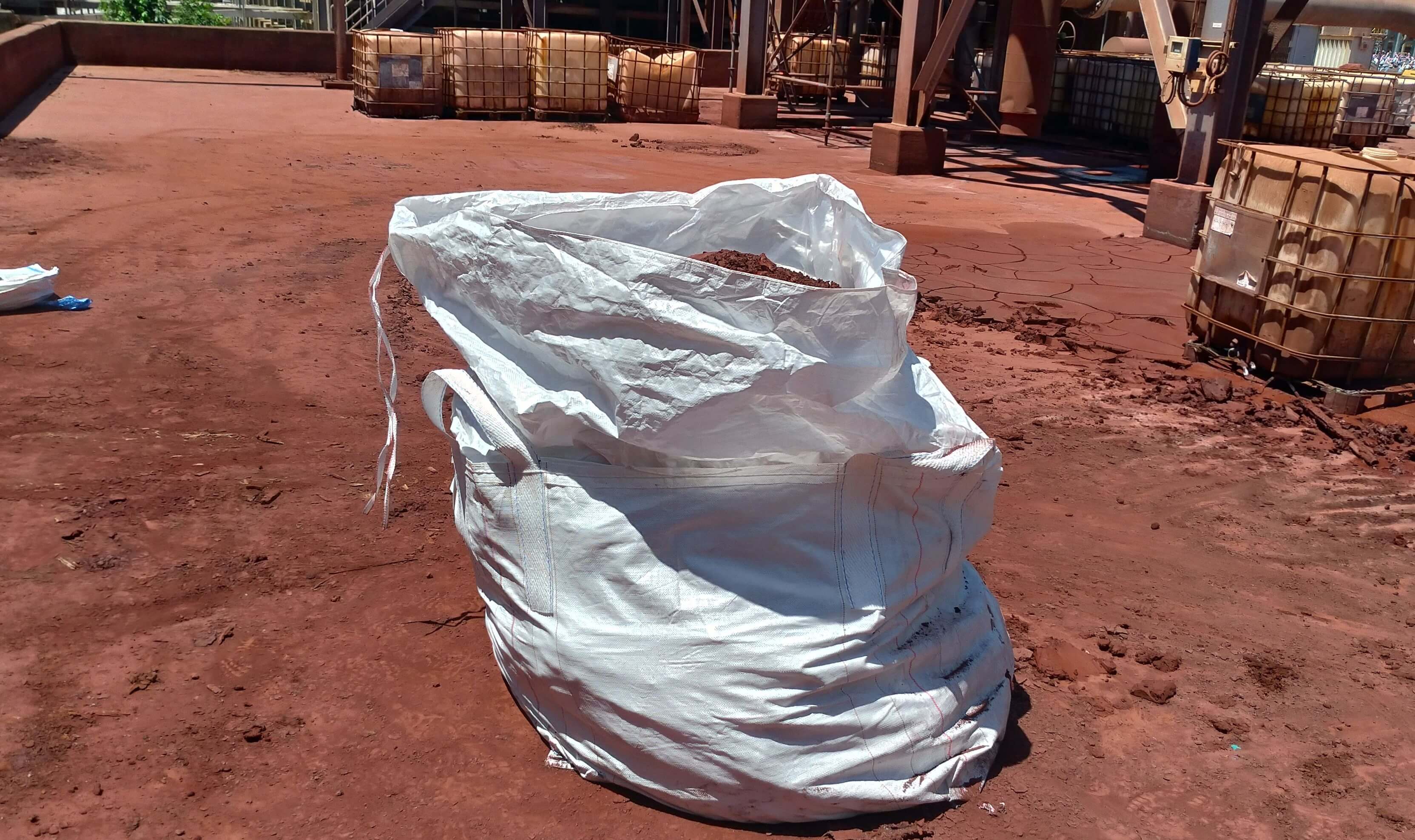 Why Purchase MiniBulk Stock Bags?
As a global supplier of bulk packaging, MiniBulk ensures our stock bags are there for you whenever you need them, wherever you need them, so your operations never come to a standstill.

Same-Day
Shipment
Getting your bulk packaging on time is essential to your operations. With MiniBulk, all you have to do is place your order, and we'll ship them out the same day!

Hundreds of Thousands of Bags In Stock
We carry 100,000+ bags in stock, so you can get all the bulk packaging you need to maintain your operations.

Cost
Advantage
Don't worry about investing capital in carrying an inventory of bulk packaging; MiniBulk keeps them in stock for you until you're ready to use them.

Consistency
of Quality
Our quality bags are produced to the strict ISO standards, so you know exactly what to expect every time you purchase bulk packaging from MiniBulk.
What's New on our Blog
Get the latest industry insights.
Our Bulk Packaging Procurement Process
How do you ensure high quality, reliable supply of bulk packaging?
Buy Stock Bags Today
If you're ready to purchase stock bulk packaging solutions for your business or have any questions, please contact us!
Frequently Asked Questions
How much are wholesale stock bulk bags?
The cost of our bulk bags ultimately depends on the size, type and quantity of bulk packaging you need. For more information about our pricing, please
contact us
.
What is the size of a bulk bag?
Our bulk bags are available in a variety of sizes. For more information about the sizes of our bags, please refer to our
print and pin stock list.
Are bulk bags waterproof?
No, our bulk bags are not waterproof. However, our
liners
prevent water or external elements from entering or exiting your bulk packaging.
How many kgs of product can fit in bulk bags?
The amount of kgs that can fit in UN-certified bulk bags depends on the product type and density you want to load. If you have questions about the safe working load of our PP woven or FIBC bulk bag with your specific product, feel free to contact us!
Are bulk bags reusable?
For safety reasons and our level of ISO standards, MiniBulk stock bags for sale are all single-use.
What products can you put in stock bags?
Each MiniBulk bag can transport, store, and carry a variety of products and materials. The following are a few common items companies fill stock bags with:
Soil/Landscape Materials
Waste
Fine powders
Minerals
Fertilizer/Produce
Firewood
What bags do you have in stock?
We have dozens of SKUs of bulk packaging in store, ready for transportation to your facility. Whether you need food-grade bulk bags, or UN-rated bulk bags, we have a variety of in-stock FIBC, woven polypropylene bags, liners, and more!