BULK BAGS AND PACKAGING SOLUTIONS
High-Quality Food-Grade Bulk Bags for Agriculture & Food Production
We are proud to carry the bulk packaging solutions you need to ensure food safety, compliance, supply security and shipping efficiency for your agri-food business.
Bulk Packaging Solutions Designed to Meet Your Every Agriculture & Agri-Food Need
MiniBulk provides innovative bulk packaging solutions that meet the rigorous safety standards and supply requirements of today's modern agri-food processors.
Food Safety
When it comes to food safety, we put the same effort into making clean bulk packaging as you do in making a clean and safe product.

Traceability is a key factor in food safety, and we understand that traceability in food-grade packaging is critical as well.
The factory that made it.
When it was made.
The production line that manufactured it.
Right down to the person sewing it all together.
Compliance
If you're expected to meet stringent health standards for safe food production and handling, your bulk packaging should be held to the same standard.
Whatever standard you require for clean bags, we will meet and exceed it.
From ISO9001, to BRC, to AIB, to the umbrella standards of GFSI, we have you covered.
All of our food-grade bulk bags are made in certified clean facilities that must pass annual 3rd party inspections and maintain their food safety standards throughout the entire year.
Supply Security
We understand how important a secure and steady supply of bulk packaging materials is to your agri-food business. Our top priority is to keep you supplied with dependable bulk packaging so your focus stays on feeding people around the world.

In fact, we have proudly diversified our manufacturing base to avoid any unforeseen international trade issues that may arise, so you never have to worry about the security of your bulk packaging supply.
Shipping Efficiency
MiniBulk specializes in inventory management and boutique warehousing options for faster delivery that keeps your business going.

If you need something sooner rather than later, feel free to check out the inventory we carry in one of our warehouses. We can provide you with ready-to-ship stock bags at a moment's notice, so your operations will never be brought to a halt.
Choose From Stock or Custom Bags, Depending On Your Needs
MiniBulk is proud to supply 'Just In Time' private labels, in-house printed poly-woven bags, bulk bags, and container liners for all of your transportation needs.
We will ensure the proper bulk packaging solution is provided:
Strength and durability requirements
Moisture sensitivity
Food safety compliance
Need bulk bags right away? We always have bulk bags in stock at our warehouses for immediate delivery at great prices.

If we don't have what you need, we will make it for you!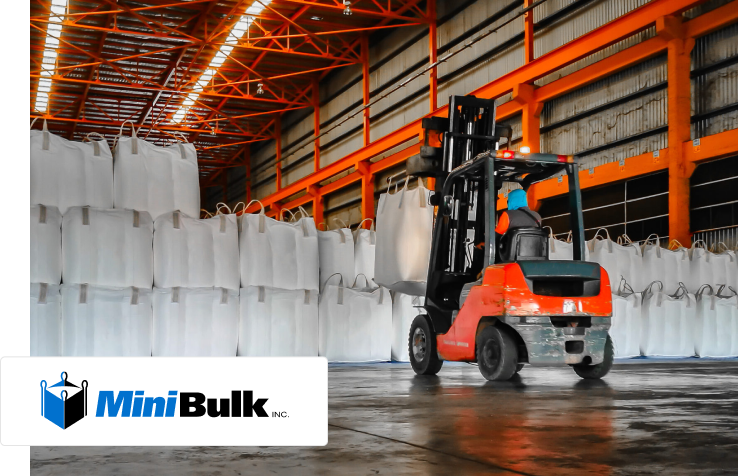 When a top global manufacturer of confectionery products was expanding its operations in Canada, the company needed a packaging provider that could meet its stringent food safety and quality control standards.
Solution
Given MiniBulk's commitment to rigorous quality control, logistics, and supply management, the client awarded MiniBulk with the opportunity to supply custom food grade FIBC packaging for their Canadian operation.

MiniBulk not only adhered to food safety requirements but also set up an inventory management program to ensure supply remains at required min/max levels.
As a global supplier of premier stock and custom-designed bulk bags, we pride ourselves on building strong, reliable relationships with the agri-food businesses that feed people around the world.

A Complete Bag Solution
We offer consultation for design, automated/manual filling, moving, storing, and end-use.

MiniBulk Tough
Our packaging solutions are strong enough to carry the weight of different food products with lasting durability.

Custom Sizing & Branding
Any bag design, any size, with your logo, text, or image. We will provide the perfect customized bulk packaging solutions that exceed your requirements.

Diversified Manufacturing
We use a reliable worldwide network of partners to deliver your quality bags on time.
Let's talk about your agri-food bulk bag needs
If you'd like to discuss the best bulk packaging solutions for your agriculture or food production business, fill out and submit the contact form below. One of our MiniBulk experts will contact you within 24 hours.