Introducing... the MVP of the MiniBulk stock bag lineup! The Rock Bag is a versatile workhorse. With a safe workload of 1360 kg, maximum UV treatment, and a 5:1 safety ratio, the Rock Bag was built with toughness in mind.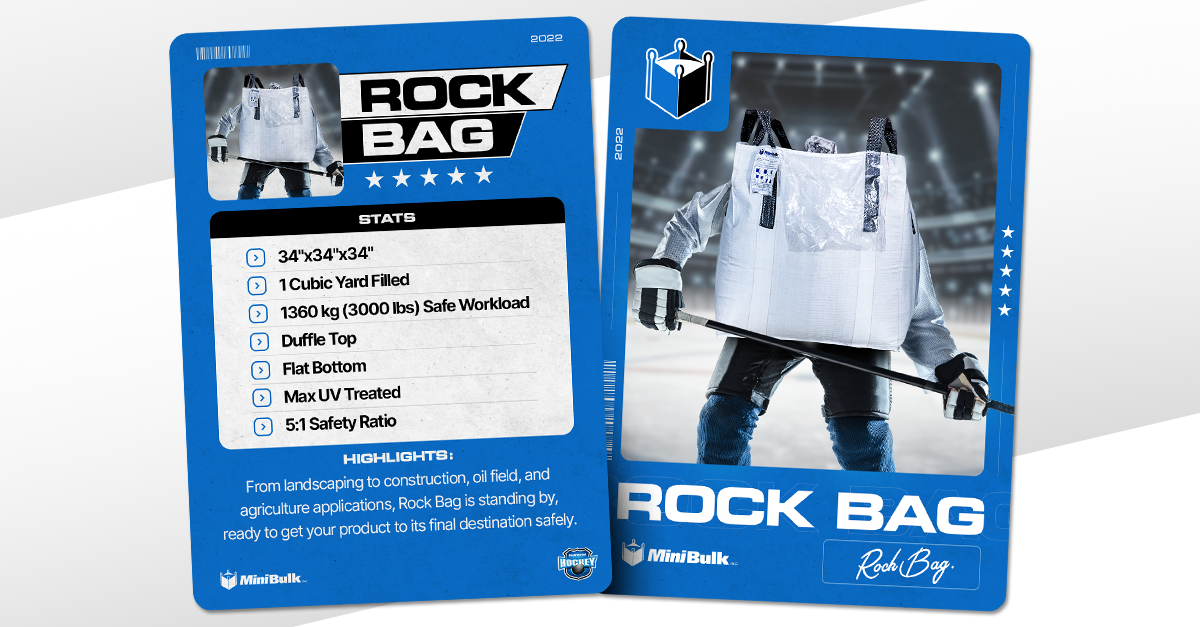 The Player: What Are Rock Bags?
If you're looking to move rocks, soil, cement, mulch, construction waste and much more, the Rock Bag has you covered! Made from sturdy woven polypropylene, the Rock Bag is ready to move your product safely and efficiently.
The Stats: How Do Rock Bags Measure Up?
34" x 34" x 34" (filled cubic yard capacity!)
Safe Workload of 1360 kg (3000 lbs.)
Duffle Top, Flat Bottom
Max UV-Treated
The Teams: What Industries Use Rock Bags?
From landscaping to construction, oil field, and agriculture applications, Rock Bag is standing by, ready to get your product to its final destination safely.
MiniBulk Rock Bags: A Versatile Linemate
Perfectly Sized to Load Materials
1 cubic yard of filled capacity makes the Rock Bag perfectly sized to load materials, saving you time and making it easy to evaluate cost!
Ideal for Tight Spaces
A footprint of 8ft 2in makes the Rock Bag ideal for yard use and tight spaces on construction sites!
Perfect for Cofferdam & Retaining Wall Construction
With high carrying and stacking load weight capacity, the Rock Bag is well-suited for coffer dam and retaining wall construction.
Safe & Cost-Efficient
Use the Rock Bag to get rid of plant site waste safely and cost-effectively.
Add MiniBulk Rock Bags to Your Team
Every team needs a tough grinder that gets the job done and isn't afraid to get dirty! Contact us to add the Rock Bag to your bulk packaging lineup today.