Over the years, MiniBulk has had countless in-depth discussions with people from all over the world regarding customized bulk bag solutions.
A world away from start to finish, we lay out exactly what needs to happen to ensure you get the right bag, at the right price, and at the right time. When talking with somebody who has never looked into getting a custom bag, the conversation always takes an interesting turn when lead times are introduced.....
THREE MONTHS TO DELIVER? You bet, and here's why.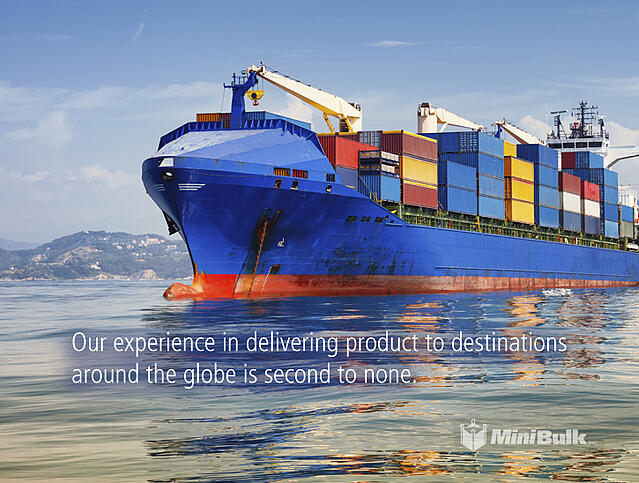 MiniBulk has been working with overseas manufacturing facilities for nearly 20 years. Currently, our main production partners reside in Asia, while our head office is in Calgary, Alberta, and our distribution centers are located coast-to-coast. Whether you travel on wheels, on a boat, or in a plane you can see the distances are vast from the original point of manufacturing to the end-user's facility.
Our job at MiniBulk is to shrink that distance down by offering our clients a hassle-free experience where we track and monitor your order from start to finish. Our experience in delivering product to destinations around the globe is second to none.
The Long Journey Home for Custom Bulk Bags
Once you place your order with MiniBulk, production begins and the three month journey is about to start. Plans are drawn up, materials are arranged and the order of bulk bags goes into the queue. After your order confirmation is received, here is the process that takes place and the time each step requires:
Production – 4 to 8 weeks (depending on the difficulty and production capacity at the time)
Ocean Shipping – 3 – 6 weeks (this allows time for export clearance and transit over the water to the destination port)
Inland Shipping – 1 – 2 weeks (includes import clearance, and depending on the final destination, rail and road carriage)
Of course, there are variables that may come up from time-to-time that affect the general guidelines above. Some that we have dealt with are customs inspections, weather conditions, labour strikes at ports and by truck drivers.
Our logistics team is trained to handle these scenarios with the highest efficiency possible and carefully selects our carriage partners to ensure the top level of service to help steer through these uncontrollable events.
Timing is Everything in Bulk Packaging
If you are curious about getting the perfect custom bulk bag for your business, a good rule of thumb is to allow at least 4 months for a brand new design.
The process we follow is fairly straightforward. We run the numbers to figure out the proper size, weight capacity and design to best suite your needs. Ideally we prefer to have an on-site visit to accomplish this. Once we have the idea, we put it to paper and get you a price.
If the pricing is workable with your current business plan, we will order samples of the custom design you requested so you can test the actual bags in real world applications. A set of samples will take about 3 weeks to produce and deliver to your business. Once you have tested and approved your custom design, the count down from 3 months begins.
Holidays, Festivals and Family
As an experienced bulk bag provider, MiniBulk is well aware of all the annual festivities that occur around the globe. These local holidays can have a negative effect on you getting your bags in time as factories shut down, workers leave and production slowly ramps up again.
Our careful management of these traditional overseas vacations ensures that your order will not be held up or delayed. Sometimes that means ordering bags much earlier than you think you should, but the promise date of delivery is key to keeping you up and running. Our logistics team is second to none, and if you want us to meet your delivery requirements, it would be wise to follow their advice!
Coming Full Circle with Circular Woven Bulk Bags
Bringing in product from around the world takes a lot of knowledge, tenacity and experience. MiniBulk has assembled an amazing team of dedicated employees who work hard every day, even months after you placed your custom bag order. Once you task us with getting X bags to X location on X date, you can relax knowing that we are working hard to ensure you get the right bag, at the right price, and at the right time.
If you would like to know more about how to get us working for you, feel free to email a MiniBulk Expert, browse our website or pick up the phone and have a conversation. Let us worry about your bulk bags and poly woven bags so you don't have to.
Read the rest of the series! The Economics of Bulk Bags: Part 1, Part 2, and Part 4