Healthy Produce to make your Customers Happy
As a farmer, you have most likely used woven sacks, boxes and large buildings to store your produce. These are popular and efficient traditional storage systems. There are more modern solutions available now, incorporating durable and customizable plastic.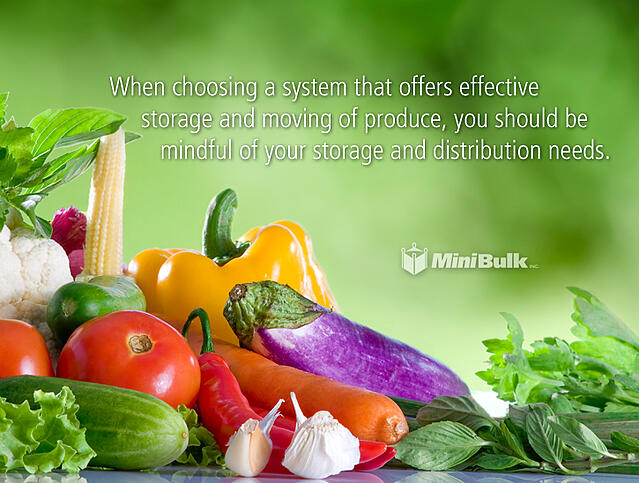 When choosing a storage solution, it is important it fits well with your agriculture operations needs as well as the unique needs of your produce in order for it to be delivered as fresh as possible.
When choosing a system that offers effective storage and moving of produce, you should be mindful of your storage and distribution needs: your filling process, reducing produce spoilage, and freshness after storage.
Tip 1. Use Products that Make Your Filling Process a Breeze
Filling storage containers can be a difficult and time-consuming process. When deciding on your storage solution, you should consider the best filling method for your produce.
Woven sacks can be a perfect option for open-mouth filling, but some processes demand different solutions. Bulk bags can be used for multiple filling processes – from open top to other processes such as spout, cone or duffle filling.
To make this process easier and even cut down on time, it is important to find a solution that is customized to your specific filling needs.
Tip 2. Use a Storage System that is Easily Movable
In many instances you will need to be able to easily move your storage containers to different locations before even transporting them away from your farm. Sometimes there are better-fit locations for certain produce as the weather and seasons change; it is vital to move containers to different areas to ensure that they are stored in the best light and temperature conditions.
Using storage buildings allows you to keep specific produce in a protected environment, but makes moving of product difficult. Rigid storage containers are very secure, but come with maneuverability challenges. The use of woven sacks and bulk bags allows for easy storage and moving of your produce.
Created for multiple transporting methods, FIBCs have different lift configurations to make this process suit your building layout and space limitations. Some bags can be moved by using forklifts. If you are more interested in stevedoring operations, single-lift style bags can be moved with cranes.
Tip 3. Use a Solution that Effectively Stores your Produce
Finding a solution that creates a better storage experience for you is important, but it is equally critical to find a storage system that is also beneficial to your produce.
Some containers are less able to create the right environment to maintain the freshness of your product, and some storage systems may be unable to prevent moisture damage or even protect against insects or diseases.
To ensure that your produce is kept as fresh as the day harvested, your storage devices should be in good condition and properly maintained. If you are reusing your storage materials, ensure that they are made and graded to be reusable. Otherwise, you could be introducing pathogens or improper conditions to your produce.
Tip 4. Use Specialty Products to Store Delicate Produce
While creating the most effective storage, it is also vital to find a storage solution that is created specially for your more delicate produce. In a previous post, we discussed how ventilated bags can keep potatoes fresh, but the same solution can be used for potato seeds, oranges, garlic and even carrots.
Special bulk bags are able to create better airflow for such produce, as opposed to woven sacks or other solutions. For instance, because onions require much greater airflow than other produce, special tote bags with netting panels on the sides offer a more beneficial solution.
As you decide on the best-fit storage system for your produce, it is important to keep these aspects in mind. The storage and shipping process of your farm foods can be risky, so it is crucial to use a product that will guarantee the safety of your produce. By creating the most effective and efficient experience for you and your produce, bulk bags are an option that can best fit your storage needs by being both safe and reliable.
Contact us today to talk about the produce storage solution that works for you.