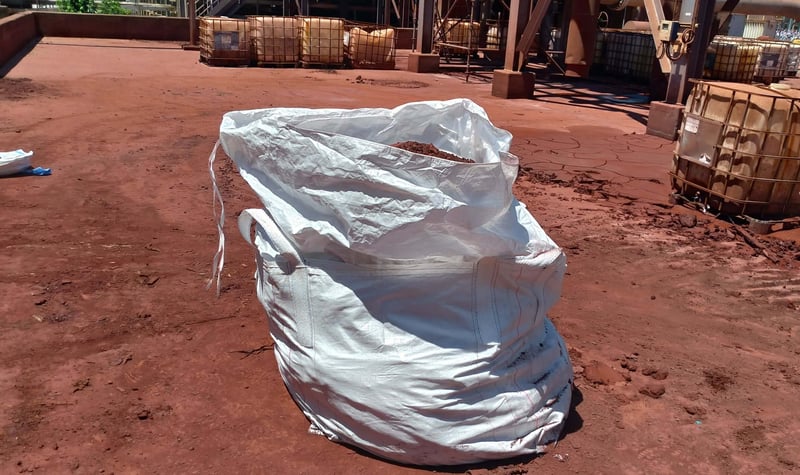 At MiniBulk, we cover all aspects of your packaging needs, whether they are primary finished goods, secondary co-product packaging, or waste disposal. We ensure you're using the right product for the right job, which is exactly what we did for a global group of mining companies.
About The Customer
Our client has operations worldwide that mine and refine metals such as nickel, cobalt, copper and zinc. The refining process results in extracting the target metals and waste streams with a valuable metal content that is further refined or reworked. All of these products need to be contained and appropriately transported to ensure workplace and environmental safety as well as efficiency.
The Challenge
During site visits to all global locations, we discovered that waste was being disposed of in the same bulk bags that were designed for finished products. Our client needed a solution to have a proper waste FIBC for each location immediately.
Inventory Allocation
MiniBulk analyzed the number of FIBCs each location consumed for primary goods over five years. Allocating such bags for secondary uses, such as waste, would draw down inventory by 32,627 units.
If these locations continued to use primary product bulk bags as waste bags, accurate demand planning would be affected. On average, 6,500 FIBCs were unaccounted for annually.
Cost Allocation
Another major factor is cost. Primary packaging for metals is designed for moving along a global supply chain. It's also made to travel further and last much longer than a package designed for waste. These factors result in a bag of good value for finished products but not for waste materials.
When comparing the cost of using primary product bags vs. waste bags, our three client sites would save the following annually:
Site 1: $10,431.00
Site 2: $68,241.00
Site 3: $259,698.00
Ease of Use
Primary bags are always designed to match the finished product's filling, handling and transport methods. Using a custom-designed FIBC for waste instead of the finished product resulted in difficulties in filling and disposing of the waste.
For example, one site had workplace safety concerns about loading sharp materials into bulk bags. Another site struggled with waste products pulling internal liners from bags when unloading. Additionally, another found it challenging to do manual loading in hard-to-reach areas of the plant due to the bag height.
Bulk bags for plant site waste are built with more flexible filling and discharge options so they can be used for various materials, equipment and conditions.
Why the Customer Chose MiniBulk
MiniBulk has been providing customers worldwide with the right bulk packaging solution for over 25 years. Our clients benefit from a periodic Packaging Value Analysis (PVA) conducted on-site by our team of professionals. This analysis allows them to leverage our expertise in identifying the correct and cost-effective solution for their waste disposal process.
The Solution
MiniBulk designed a designated waste disposal FIBC for each global location that was lower in cost than their primary bag and easy to handle. Waste stream bulk bags can offer better functionality at a lower cost than using a purpose-built package for multiple uses.
Inventory Control
By designing a different FIBC for waste disposal, our client can now maintain accurate inventory control of all primary bags and keep track of waste output. Tracking the consumption of bulk bags for waste also allows the client to keep a closer eye on production efficiency at each plant site.
Cost Savings
Having the right bag for waste disposal has provided our customers with over $100,000 in average annual savings across three locations. The client now has full visibility of the cost they allocate to waste and a more accurate cost on the packaging of their finished goods.
Easy Handling
MiniBulk's focus on design was versatility as well as easy filling and handling. Each location no longer struggled to fit various waste into a bag, as the bags were designed to provide easy handling and disposal.
One design lowered the overall height of the bulk bags for waste so they could be loaded manually in locations that could not be served with overhead loading equipment.
Another design removed the internal liner to prevent safe handling issues when waste was discharged at the rework station.
How MiniBulk Can Help Your Company
Regardless of the product, handling method or location, MiniBulk will always provide the right solution for your needs. You can trust us to determine an efficient and cost-effective packaging method for the task at hand! Contact us today to learn more.