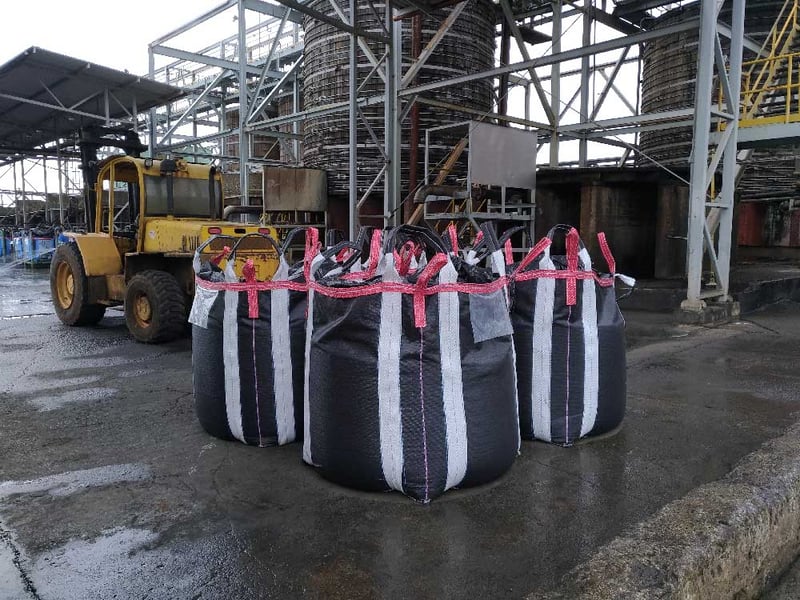 At MiniBulk, we're more than just a bulk bag company. We spend our time on the ground with you to see the issues, plan the fixes, and offer solutions, which is exactly what we did for this multinational mining company.
The Challenge
The mining company was struggling with five major challenges and needed a solution that could help improve their metal sulphide concentrate packaging and overall product handling operations.
1. Multi-Phase Product
The customer's initial metal concentrate packing process required materials to be charged into bags in slurry form. At the filling stage, 30% of their bulk bags failed, causing excessive rework and additional costs. Oxidization of material outside the packaging also led to environmental and handling concerns throughout the logistics stream.
2. Handling and Exposure
Since the customer is an international company, their metal concentrate product was being handled repeatedly by many different lifting devices. On top of that, their filled concentrate bags were often exposed to extreme weather conditions, from plus 40 degrees C to -40 degrees C. At certain unloading points along the bulk bag's journey, they were experiencing bag failures, resulting in environmental concerns, personnel risk and product loss.
3. Environmental
Complete product containment is necessary throughout all stages of handling to prevent environmental contamination and eliminate clean-up costs. Bags that failed during initial slurry charging were leaking metal sulphide concentrates, showing signs of oxidation, and general wear on the outside of the bags. Toppled bags were losing material at several points along the transport stream. Ocean, trans-loading, rail, and off-loading points were slowed down by the costly clean-up of failing bags spilling material.
4. Personnel Safety
The previous bag design would fail at discharging operations when the liner separated from the bulk bag wall. This caused a hazardous handling situation for staff emptying the bags since they had to work closely around the spiking apparatus.
5. Product Shrinkage
With metal sulphide concentrate materials having a high value, it is important to be able to have the highest recovery efficiency possible. Their bags were not designed properly as they were trapping hundreds of tonnes of material annually. Unfortunately, this went on for many years, and one can only guess how much revenue was lost without anybody realizing it was missing.
Why This Multinational Mining Company Chose MiniBulk
From environmental and safety issues to operational challenges, this mining company needed a leading bulk packaging provider to solve their packaging problems.

Since MiniBulk has provided quality bulk packaging solutions for over 25 years, the mining company knew they could rely on MiniBulk to help improve their business operations and assist them with their packaging needs.
The Solution
MiniBulk helped solve five major problems faced by the multinational mining company.
Upgraded Internal Liner
We designed a new packaging specification with the proper containment properties that met and exceeded their requirements. An upgraded internal liner with proper resin materials and precise extrusion methods was key to solving their leaking problem.
After implementing the new liner design, the bag failure rate went from 30% to less than 0.1% at their filling stage.
Additional UV-Protection
The new MiniBulk bags were constructed using improved UV-protected materials. We increased the level of inhibitors along with a colour masterbatch that had higher resistance to UV damage. The lift design was improved by adhering to strict ISO 21898 standards that ensured lifting integrity throughout the entire life of the bag. A cyclic top-lift test standard was implemented and performed to prove the new design for their specific multi-trip scenario.
Upgraded Manufacturing Standards
To meet the environmental challenges, we implemented improved manufacturing standards to produce materials that would meet and/or exceed UN TDG and IMDG standards. By adhering to the upgraded standards in the initial design and proving the quality through ongoing batch testing, we eliminated the environmental problems created by the previous packaging.
Installed a Unique Tabbing Configuration
A composite FIBC package is only as good as the integrity of the individual layers and the ability to keep the package working properly until the end-of-life, discharging stage. Personnel safety when discharging bags is a top priority in many concentrated handling operations. By designing and installing a unique tabbing configuration, we were able to eliminate risk to personnel by ensuring the inner layer of the packaging did not leave the bag with the metal concentrate.
New Internal Layer Configuration
The efficiency of product recovery was greatly improved when they implemented the MiniBulk bag due to an internal layer configuration that eliminated the previously hidden pockets of metal concentrate. The inner layer was also sized correctly in relation to the outer bag leading to a clean, efficient, and safe discharge of concentrate every time. This also ensured that the majority of metal concentrate ended up in their process stream instead of staying in the bag.
How MiniBulk Can Help Your Company
No matter what problems you're facing, MiniBulk is here to provide solutions. Don't settle for unsatisfactory processes and bag designs. Increase efficiency and effectiveness by partnering with North America's leading bulk packaging provider.

MiniBulk's service and commitment to our clients is second-to-none, no matter where you are in the world. We want to learn about the unique challenges you are facing at your mineral processing operation, and above all else, we would love to solve them! Contact us today!