Selecting Packaging that Protects Your Product and Bolsters Your Brand is key to Winning new Customers
The cliché says that you can't judge a book by its cover, however customers are quick to make judgments about a product by assessing the packaging of any product – books and beyond.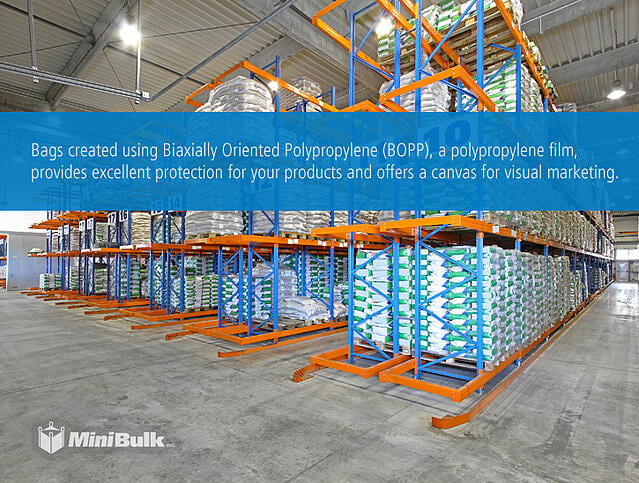 This is why branding strategy has become such a significant part of modern business strategy. It's a cornerstone to your business plan and, when implemented correctly, can have a big impact on your bottom line.
As your business grows, you want your customers and clients to perceive you as an industry leader in your field. Which is why it's important to invest, not just in your product, but also in your packaging.
In the past, larger mini-bulk bags could only have a graphic consisting of three colours, with no UV protection, applied via silk-screen process. This simple method of branding bagged products works well for some people, but other companies have dedicated marketing teams who are always searching for ways to make their products stand out from the crowd.
New packaging technology for mini-bulk shipping and storage is revolutionizing the way you can ship, store, and present your products, all while increasing your overall brand recognition.
Bags created using Biaxially Oriented Polypropylene (BOPP), a polypropylene film, provides excellent protection for your products and offers a canvas for visual marketing.
Our BOPP bags are stronger than their plainly printed counterparts. Made with a three-layer sandwich of PP woven fabric, PP lamination, and BOPP film, their durability is first in class. Whether being hauled by forklift or loaded by hand, these bags can stand up to heavy duty wear and tear.
However, the bags don't stop at durability for shipping and storage. They're also the best investment you can make in moisture protection. The woven fabric, when combined with polypropylene film, creates a barrier against water and moisture so strong that you won't even need to stretch-wrap your shipments!
But, there's more to these bags than quality. They can be produced in sizes ranging from 25 kg to 1500 kg, giving you the freedom to sell, ship, and store your products in ideally-sized packages for you and your customers.
The bags are also produced in Food Certified facilities, so – no matter what's going inside – you know it's safe for your customers to use. Further, they're easily recyclable, an increasingly important feature for environmentally conscious consumers.
Not only does BOPP packaging provide the best durability, it's also graphically customizable. You'll be able to tailor design your packaging with brilliant coloring – including your logo, slogan, and more – for the ultimate in brand recognition. Your customers will come to associate your business with the highest quality packaging, as well as a stunning presentation. The CMYK printing process allows for graphics with photo realism, something you can not achieve with traditional printing methods.
You may not be publishing a book, but – if you want to create packaging for your products that is just as impressive as the good inside – it's time to make the durability and customizability of BOPP bags part of your branding strategy and business plan.
Learn more about our custom bags and how we can help you achieve you branding strategy by clicking the button below.