Your customers need their fertilizer safe and on time.
Reliability is the most important aspect of storing and shipping your fertilizer. It is important to find the right balance between product quality and cost efficiency.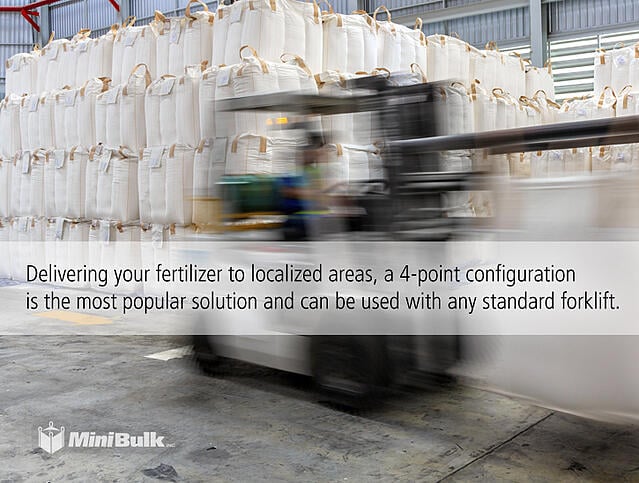 There are now many customizable solutions to satisfy a variety of business needs and to guarantee the safety of your agro-chemical materials. From soft plastic totes for liquid to metal drums, the options are many. Today we are going to look at how to get the most out of bulk bags.
Before deciding on the best packaging solution for your fertilizer and other plant nutrition materials, you must first think of the environment that you will be handling them in, your overall usage needs and whether you will require moisture protection.
To determine the best transportation solution for you, here are the 3 questions that you must ask yourself before transporting your fertilizer.
Question 1. Will your product be shipped locally or around the world?
Depending on your intended destination, you will require different transportation designs. When determining a storage and transportation option that will be beneficial to your specific operations, it is important to consider whether your shipping method or shipped product have special needs. These could include safety requirements, product shape, and durability.
For instance, if you are anticipating on delivering your fertilizer to localized areas, a 4-point configuration is the most popular solution and can be used with any standard forklift. If you are delivering materials internationally, it is recommended that you use cranes or any other stevedoring operation.
The main advantage to using bulk bags to transport fertilizer to your clients is the fact you can reach more people. Not every operation that requires fertilizer needs a tremendous amount of product. By offering your products in 1000 kg bulk bags, you can reach more customers and expand your client base.
Question 2. Will you be reusing or only need a solution for a single-trip?
Since the weight and strength of fabric varies drastically depending on the intended usage cycle, you must ask yourself whether you require a solution that can be used for multiple trips or one that is only necessary for a single-trip.
If you are intending to re-use a solution for further storage and transportation in your operations, there are bulk bag solutions that are specifically developed to withstand multiple usage cycles. These robust bulk bags are made from heavier fabric and the loop lift material is upgraded for multiple liftings. Wear sleeves can be added to regular loops to take the brunt of the forklift tines, or loops can be made from the same material used to make seat belts in vehicles.
If you are intending to only use your shipping containers once, there are bags made to transport your product with minimal weight. These bags can also be made with recycled materials, which can be a cost savings if reuse is not possible. We can also print SINGLE TRIP on the bag to ensure the end-user understands the limitations of the bulk bag they have.
Question 3. How will you maintain the integrity of your product in wet conditions?
It is critical to take into consideration the type of environment that you will both be storing your fertilizer in and shipping it to. If it will be kept in or transported through wet conditions, your product must be kept dry to be as effective as possible for your consumers. There are many options for you to choose from if you are dealing with wet conditions, from shipping vehicle decisions to storage buildings and, finally, shipping containers.
If you require extra protection between your product and the elements to ensure its integrity, there are highly customizable polyethylene liners that can be created in a variety of different sizes, thicknesses and materials.
These durable liners will assist in keeping moisture out of the bag and ensure the end user gets the same flowable product that went into the bag. Liners can be 'form fit' to the inner dimensions of the bag and then tabbed or glued into place. Making sure the liner stays in the bag when product is being discharged is key. The last thing your customers want is to have a huge piece of plastic come out of the bag and into the mix!
One final note that ALL fertilizer producers in Canada need to be aware of. When you get your price quote on an order of bulk bags for fertilizer, it is imperative you get the bags costed DUTY OUT. In Canada, goods that enter into the cost of manufacturing fertilizer are duty free, and that gives you a major price advantage when ordering. Bulk bags entering Canada are subject to an automatic 18% duty surcharge, however fertilizer bags are exempt. Save yourself some green while you make your customers fields green!
Contact us today about your agro-chemical storage and transportation needs.