The World's Most Versatile Packaging Solution
Industrial and commercial businesses across the globe use MiniBulk bags to transport a vast variety of products and materials across multiple industries:
Mining Industry - Built MiniBulk tough, we have made millions of custom bulk bags for the mining and processing industry in our 20 years of service.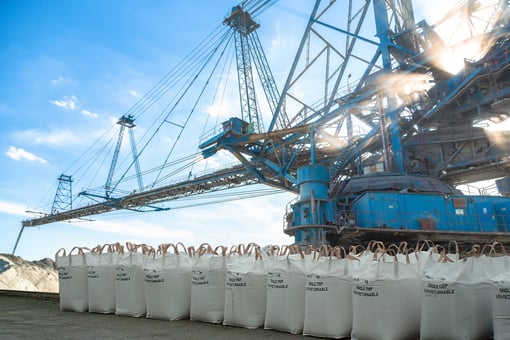 Agriculture Industry; designed to handle potatoes, onions, seeds, sod, beans and lentils
Agro-Chemical Products; bulk bags ready to handle fertilizers in 1, 2 or 4 loop styles
Food Services; certified food grade bags for dairy, grains and other food types
Chemical, Environmental & Hazardous Waste Handling;UN certified bulk bags for chemicals, pigments and site clean-up materials
Recycling; strong multi-use bags capable of handling the rigors of the recycling industry
Animal & Fish Feed; available in 1, 2 or 4 loop styles
Building & Construction; work-site strength bags capable of handling sand, concrete, cement or gravel
Glass & Ceramics; custom built bags that withstand glass and ceramic materials
Manufactured using heavy-duty, UV-treated polypropylene, MiniBulk bags are available with weight capacities up to 3,000 kg each.
MiniBulk stocks standard configurations available for immediate delivery. If you need to add an extra barrier of protection between your product and the elements, polyethylene liners are available in a variety of sizes, thicknesses and materials. We can supply just the liner or an FIBC fitted with one depending on your needs.
Specialty Bags to Meet Your Needs
MiniBulk's extensive knowledge and manufacturing partnerships allows us to provide specialty products for unique applications:
Ventilated or Breathable bulk bags; designed with food and agriculture businesses in mind
Conductive Type-C bulk bags; great for grounding static-charges produced during filling and handling
Dissipative Type-D bulk bags; capable of dissipating static charges without a need for grounding
Container Liners; designed for bulk transportation of materials in 20' and 40' container sizes
Custom Printing; make your bulk bag stand out with 3 colour and 7 colour BOPP printing
Custom Bags for Any Application
MiniBulk works with you to custom design bags to meet your precise specifications. Our experts consult with you to develop the best design for the handling environment, logistics stream and end-user satisfaction.
If there's a specific requirement your bags must meet contact a MiniBulk Expert today to design the right bag for you!
New to the MiniBulk lineup: Multi-walled Paper Bags - ideal for cement, chemicals, grass, feeds and more. Contact a MiniBulk Expert to learn more.