If you're packaging fertilizer for transport or sale, there are a number of factors that you should consider before buying your bags. We've talked before about agricultural bags for storing and transporting your crops. Today, we're going to talk a little about a different element of the ag industry: fertilizer storage and transportation.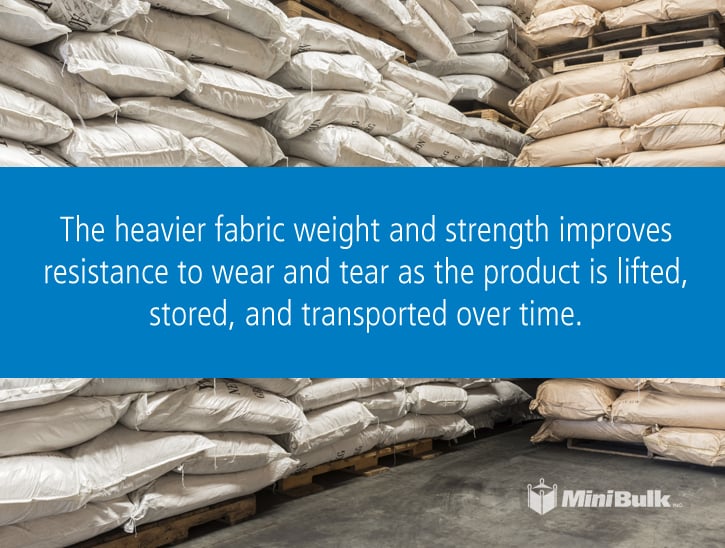 First, think about your handling environment
Will your product be shipped locally, or is final destination somewhere across the globe? There are two main fertilizer bag configurations: four-point and single-point. While each can be handled effectively by a forklift, single-point configurations are ideal for large fertilizer bags that will be lifted by crane onto shipping containers for overseas delivery.
In addition to the two loops styles, all your filled bulk bags are designed to fit on a pallet. If you need to transport material in bulk bags, a pallet is an excellent way to load bags into dry vans for shipping. There is only so much height in a trailer, and pallets might allow you to double stack smaller bags to maximize shipping effeciencies.
Second, think about your usage.
Your usage – that is, the duration that your bags will be used – is another important factor to consider when selecting your fertilizer bags. Primarily, you need to know what the lifecycle of your bag needs to be. Do you require a fertilizer bag for single use, or are you planning to be able to use the bag multiple times?
For multi-use bags, you'll need to invest in a bag made of durable virgin materials. The heavier fabric weight and strength improves resistance to wear and tear as the product is lifted, stored, and transported over time. However, it's about more than the physical resiliency of the bag. Sturdy multi-use fertilizer bags also provide measurable long-term UV protection for your product.
For single-use bags, you can stick with minimal weight and strength. Recycled materials are even possible if the bags contain Polypropylene resin (a synthetic polymer that, when blended with other materials, significantly increases durability) in the fabric construction.
Third, think about your moisture protection requirements.
Taking the time to evaluate the moisture protection requirements for your fertilizer bags is essential for the long-term stability of your product. Making these decisions requires an eye on the future, though, as you must consider the environment – not just of your own operation, but of your clients. Do the research about the locations where your product is being shipped before deciding which protectants your fertilizer bags will require.
There are a number of options for your bags. The most cost-effective are open tops with a liner. More expensive (but more efficient) solutions include form fit liners for the entire bag. This not only protects against moisture, but improves filling and discharge functions.
Fourth, think about your required capacity and adaptability.
Not every one of your clients will be able to take an entire railcar or truck-load of fertilizer in one shot. By using bulk bags, you can custom blend the exact amount of product required by smaller operations. In addition to expanding you client base with smaller users, bulk bags can allow you to mix a smaller amount of custom blended fertilizer for specific crops.
When you're selecting a provider for your fertilizer bag needs, be sure to consider the capacity and adaptability of bag sizes in mind. We're well equipped to provide bags – as well as liners – in capacities up to two tons. We're happy to work with you to customize the fertilizer bag that best suits your needs.
Interested in learning more? Give us a call.